Healthy Corals "Glow" Under Certain Wavelengths of Light, and Brightest Before They Die
June 18th, 2019
Most people are somewhat aware that there are animals in the ocean that make their own light. But there are also proteins that "glow" when a specific (blue) wavelength of light is shone at them.
One of them is GFP, or green fluorescent protein, and most of what we know about the brain is because of it. GFP was first extracted from a jellyfish (aquorea victoria) in the 1960s, and since then scientists have been able to harmlessly attach it to certain cells to "light up" and show otherwise invisible cellular activity—in Dr. Vincent Pieribone's case, parts of the human brain.  
To us he's just "Vincent," the avuncular, warm, incredibly intelligent "mad scientist" who came to the ocean space via neuroscience. Vincent first came aboard Alucia in 2013 to look for GFP, which is found not just in jellyfish but also in marine species like sharks, eels and coral. 
The research being done by Vincent's John B. Pierce Laboratory which is affiliated with Yale, is exploring the potential for these light-up signals to do more than just display activity in the brain. Imagine one day someone being able to think about moving a prosthetic limb, lighting up the relevant part of the brain, and those light signals then being able to execute the command. It could even, one day, replicate sight signals in brains of people who have gone blind.
The other night, it was great to see Vincent get back to his roots and get in the water with his special blue-light camera, custom built by the John B. Pierce lab to look at coral biofluorescence as an indicator of their health.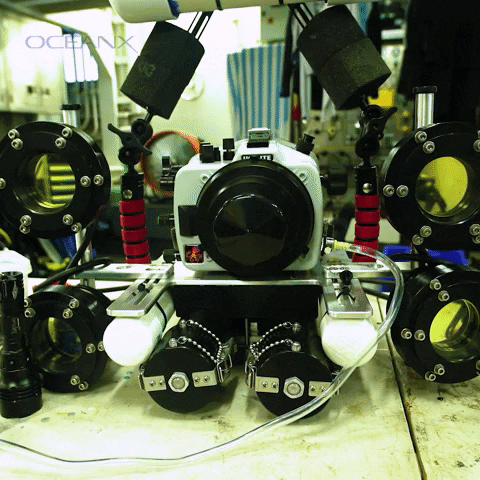 If a coral species biofluoresces, it is generally thought that the coral is healthy. But in some cases, if a large bleaching event is occurring, corals will fluoresce extra brightly, as if giving a final warning that they are about to succumb. 
These signals, which are invisible to humans otherwise, are a source of much mystery to scientists. As Vincent puts it, "These signals are cryptic. We don't know to whom they're sending them. And it's a lot of work for a coral to glow. You can understand why a mobile creature like a bird would want to make itself colorful, to attract a mate. But for corals, which are sessile, and which eject their sperm and eggs into the water column, it must be serving a different function."
One reason could be to attract fish. The waters in which most corals live are very clear and beautiful—but what makes them so clear is they're nutrient poor. So if they look pretty and glowing to a fish, perhaps they'll come and live on them. Corals need CO2, water, and nitrogen and phosphate—the last two come from fish poop. Fish also eat algae, which are constantly trying to overgrow corals. 
Vincent and team were happy to observe that the reef was healthy and beautiful. They were even joined by a curious turtle (you can't see it in this footage, but they said its shell was biofluorescent also!)
This was a first attempt to combine biofluorescent imaging of coral with microbial and disease ecology data collected from the other science teams from Mote Marine Laboratory and Aquarium, Scripps Institution of Oceanography, and the Woods Hole Oceanographic Institution. As our Research Associate Mattie Rodrigue put it in one of her recent updates, "Real coral heavy-hitters." They are doing incredible work. In the future, we hope to couple these data when evaluating the health of a reef.